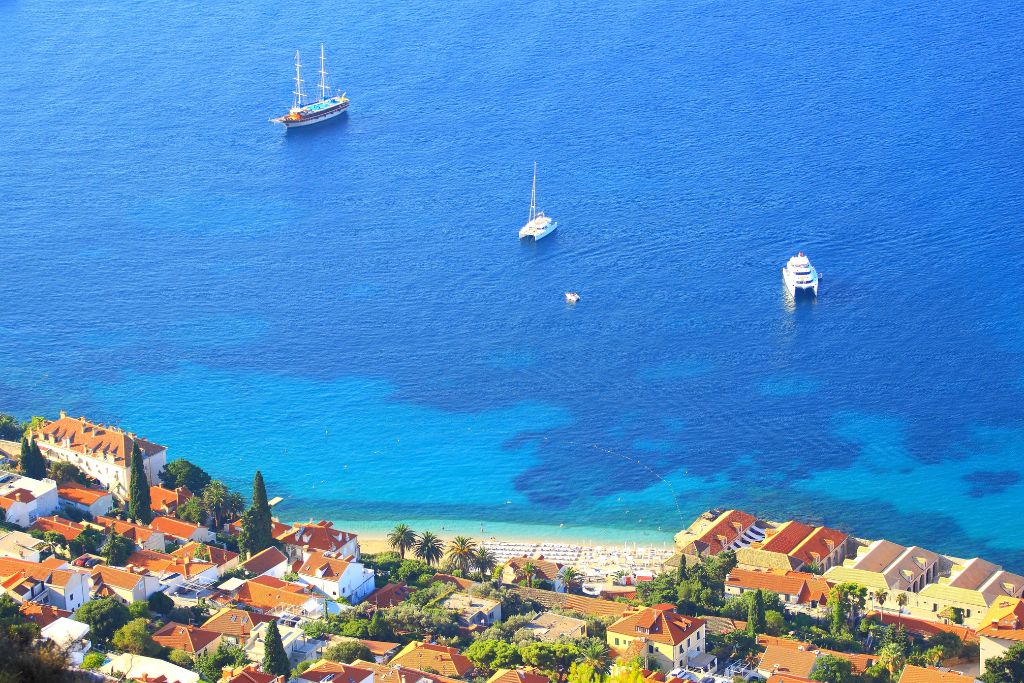 Get tips on where to find the best beaches in Dubrovnik. Plus see photos and exclusive tips to make the most of your trip. Buza Beach is a rocky beach outside of the Old Town walls with water that is both clear and refreshing. It is also an ideal spot to watch the sunset. With a rich history dating back to the Middle Ages, Dubrovnik is one of the most popular vacation destinations in Croatia. With its crystal clear waters, dramatic cliff-lined vistas, and ancient architecture, it's no wonder Dubrovnik has become a hotspot for luxury sun loungers and water sports enthusiasts alike. And if you're looking for some peace and quiet too – Dubrovnik offers plenty of accommodation options as well as cultural attractions like art galleries, medieval churches, and mosques. So whether you're planning your dream vacation spot or just want to get some tips on where to find the best beaches in Dubrovnik, we've got just the guide.
Lapad Beach
The sand at Lapad Beach is fine and the water is crystal clear, making it one of Dubrovnik's best beaches for swimming. You can walk the short 1.4-kilometer (0.9-mile) distance from Pile Gate to Hotel Bellevue or take an Uber or Taxi for less than 10 euros to reach this gorgeous spot.
Banje Beach is the closest beach to the Old Town and is therefore very popular, especially in summer. This broad, fine-pebble beach is lined with lounge chairs and umbrellas that are rented for a small fee. To get there, walk east out of Ploce Gate and down a flight of steps.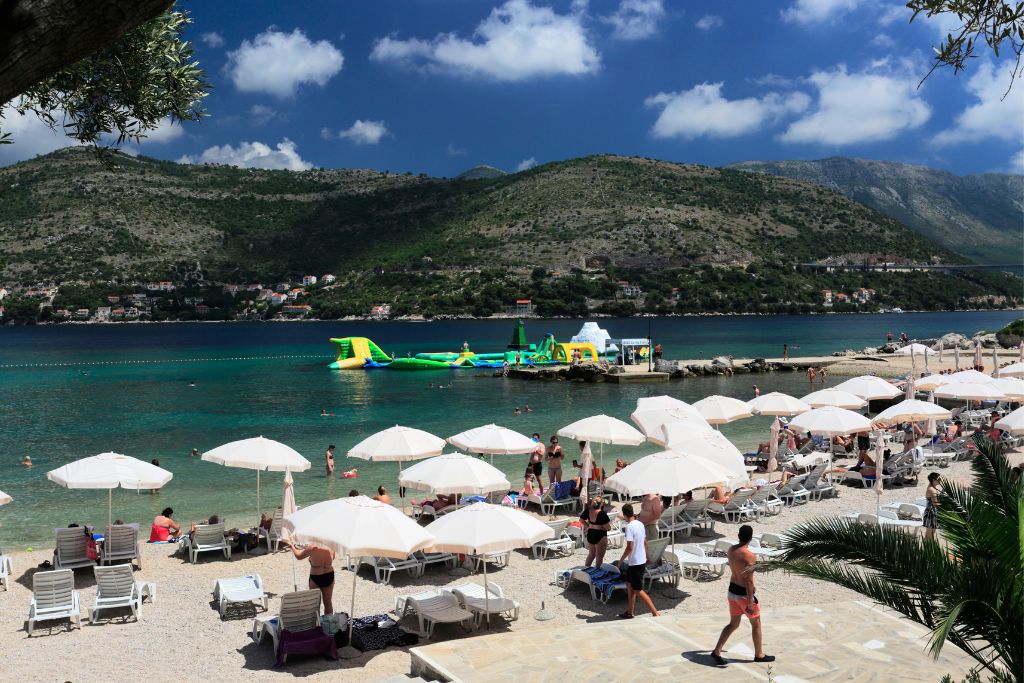 Another great public beach on the Lapad Peninsula is Sunset Beach, which has iconic square shade umbrellas and a rocky foreshore. This beach is a favorite among locals who love to play Picigin, a group game played in knee-deep water with a ball. This beach also has a cafe bar for food and drinks.
Banje Beach
Known as one of the most beautiful beaches in Dubrovnik, Banje Beach offers impeccable turquoise waters. Sunbathe with a view of the walled Old Town while you dip into the Adriatic Sea at this popular city beach.
The beach is a mix of sand, pebbles, and stone and has a shallow shoreline perfect for families. You can also rent lounge chairs and umbrellas on the beach. If you're interested in escaping the strong summer heat, head to the beach early.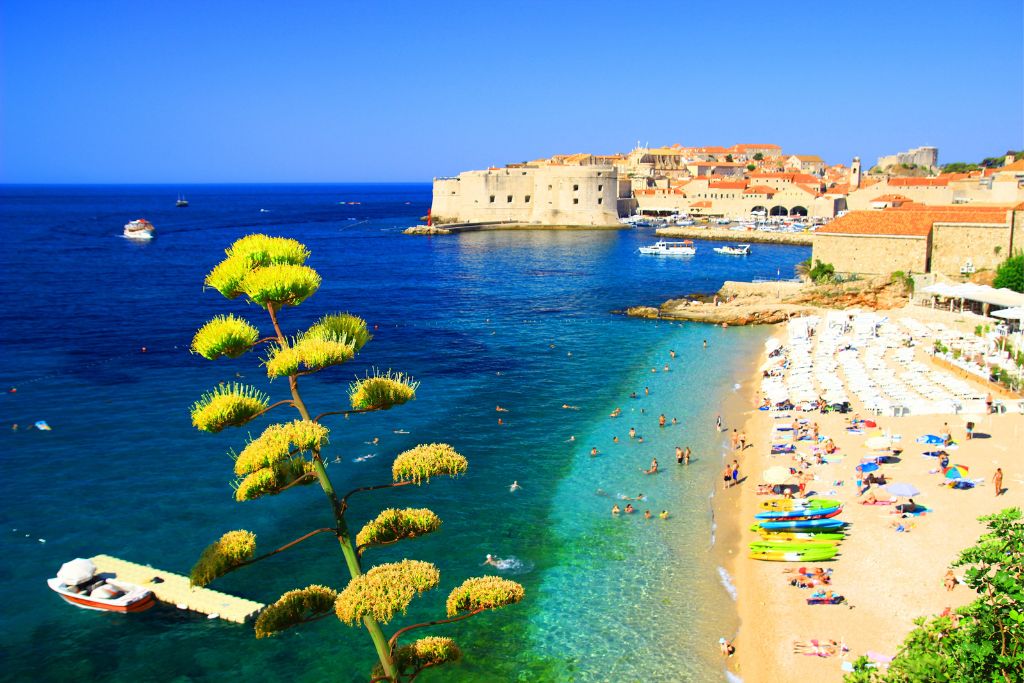 Another great option is the rocky Porporela beach. This secluded swim spot is the locals' favorite. Its roped-off area offers a safe spot to jump into the water and has a beach restaurant for snacks and drinks.
Another fantastic swimming beach is Sunj Beach. Located on Lopud Island in the Elaphite archipelago, this dream beach has wide coves lined by far-reaching headlands that drop into clean, clear waters. It's easy to reach this beach by public ferry or as part of an island hopping tour from Dubrovnik.
Copacabana Beach
The most popular beach in the city, Copacabana Beach is a half-moon pebble beach that offers beautiful views of the old town and plenty of facilities including restaurants, sun-loungers, and bars. Due to its popularity, it can get crowded here, especially in the evening when it transforms into a buzzing beach bar scene.
Visitors to the beach can rent two sun beds and an umbrella for 120 kunas. There are also changing cabins, showers, and food options nearby, as well as a variety of water sports such as kayaking and jet skiing.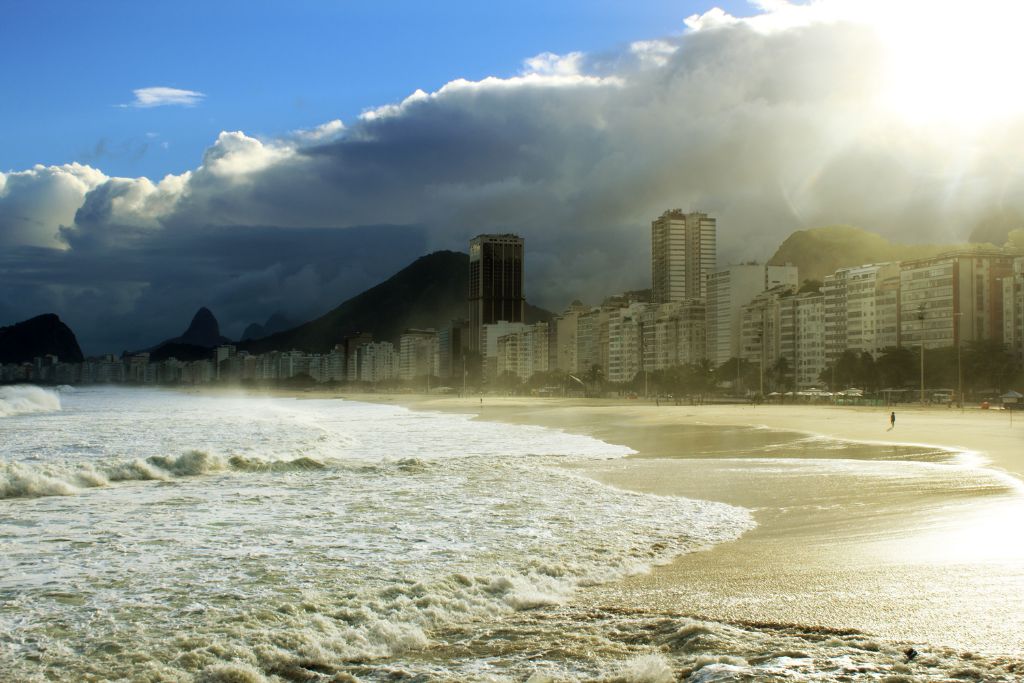 There are many hotels near Copacabana Beach, with the best prices found on KAYAK. Use the map below to see hotels in the area and book a stay close to Copacabana Beach. You can also check out guest reviews of hotels in the area and compare prices to make sure you are booking the best hotel for your trip.
Porporela Beach
While it may not look as wild or all-natural as the other beaches on this list, Porporela Beach in the neighborhood of Popovici is a truly unique spot. This rocky locale is lapped by clear azure waters and is surrounded by dramatic scenery.
It's a popular local beach and while it can get busy during the summer months, you can usually find an empty lounge chair or two to relax on. The area also houses a restaurant and bar where you can buy food, drinks, and cocktails.
Getting to this secluded beach isn't easy, but it's well worth the hike. The path descends from a cliff next to the water and involves climbing stairs and walking through tunnels. Once you arrive, the view of the sea and neighboring Lokrum will be an unforgettable sight.
Finding the greatest beaches in Dubrovnik requires expert assistance. Dorset's Jurassic Coast offers extra beachside fun. Our guide to spending a few days on Dorset's Jurassic Coast includes excellent information on this UNESCO World Heritage Site. Explore the stunning coastline to find hidden coves, spectacular cliffs, and fossils. This guide will maximize your coastal vacation with attractive beach villages and thrilling outdoor activities. We can provide an exceptional beachfront experience in Dubrovnik or Dorset's Jurassic Coast.